Answer
Typical counterclockwise atrial flutter has caudocranial activation (ie, activation counterclockwise around the tricuspid valve annulus when viewed in the left antero-oblique fluoroscopic view) of the atrial septum (see the image below).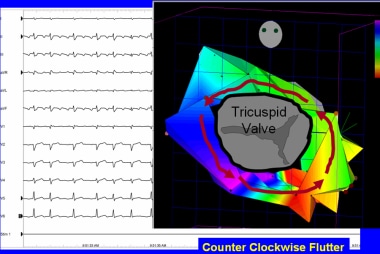 Typical counterclockwise atrial flutter. This 3-dimensional electroanatomic map of a tricuspid valve and right atrium shows the activation pattern displayed in color format. Red is early and blue is late, relative to a fixed point in time. Activation travels in counterclockwise direction.
---
Did this answer your question?
Additional feedback? (Optional)
Thank you for your feedback!