Answer
The crista terminalis acts as another anatomic conduction barrier, similar to the line of conduction block between the two venae cavae required in the animal model. The orifices of both venae cavae, the eustachian ridge, the coronary sinus orifice, and the tricuspid annulus complete the barrier for the reentry circuit (see the image below). Typical atrial flutter is often referred to as isthmus-dependent flutter. The rhythm is due to macroreentry, there is an excitable gap, and the rhythm can be entrained.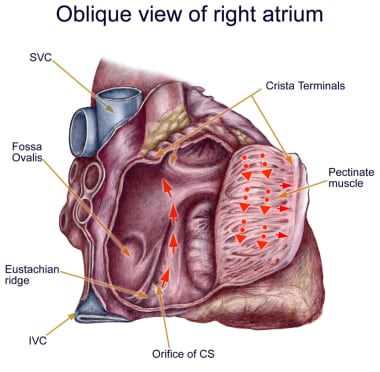 Anatomy of classic counterclockwise atrial flutter. This image demonstrates an oblique view of the right atrium and shows some crucial structures. The isthmus of tissue responsible for atrial flutter is seen anterior to the coronary sinus (CS) orifice. The eustachian ridge is part of the crista terminalis that separates the roughened part of the right atrium from the smooth septal part of the right atrium. IVC = inferior vena cava; SVC = superior vena cava.
---
Did this answer your question?
Additional feedback? (Optional)
Thank you for your feedback!