Answer
Atrial flutter is a cardiac arrhythmia characterized by atrial rates of 240-400 beats/min, usually with some degree of atrioventricular (AV) node conduction block. For the most part, morbidity and mortality are due to complications of rate (eg, syncope and congestive heart failure [CHF]). See the image below.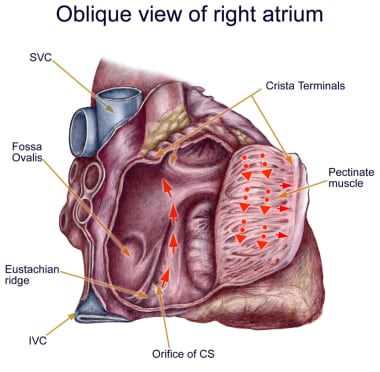 Anatomy of classic counterclockwise atrial flutter. This image demonstrates an oblique view of the right atrium and shows some crucial structures. The isthmus of tissue responsible for atrial flutter is seen anterior to the coronary sinus (CS) orifice. The eustachian ridge is part of the crista terminalis that separates the roughened part of the right atrium from the smooth septal part of the right atrium. IVC = inferior vena cava; SVC = superior vena cava.
---
Did this answer your question?
Additional feedback? (Optional)
Thank you for your feedback!