Answer
Answer
Oral inspection may identify any areas of atrophy (see first image below), erythema, leukoplakia (see second image below) erosion, or ulceration (see third image below). Bimanual palpation of the tongue, tonsils, and floor of the mouth aid in evaluating deep tissues for masses or infections.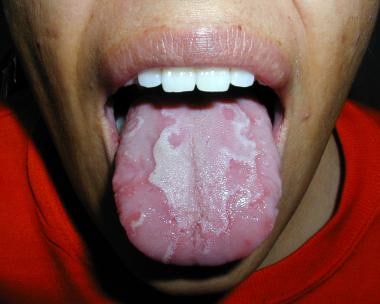 A 29-year-old female presents with tongue irritation. A diagnosis of benign migratory glossitis (geographic tongue) is made by the appearance. The portions of the tongue with atrophic filiform papilla are symptomatic to acidic foods.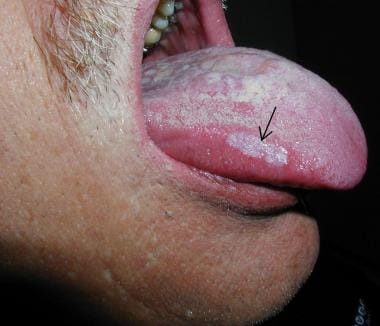 A 60-year-old male with a 2-week history of tongue and mouth burning. The lateral tongue was positive for C. albicans fungus inflammation. The black arrow identifies a white tongue lesion. The patient was treated with oral clotrimazole.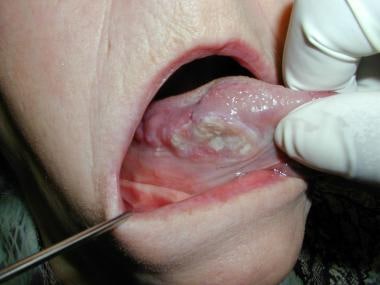 A 63-year-old female presents with tongue discomfort lasting 6 months. She had a right tongue squamous cell carcinoma that extended to the regional lymphatics. She was treated with combined modality therapy.
Dental examination may reveal damage to enamel or worn teeth (a sign of bruxism/clenching) or protrusion of the front teeth/malocclusion (a sign of tongue thrusting).
Palpation of the jaw, muscles of mastication, neck, shoulder, and suprahyoid muscles for tenderness suggests temporomandibular joint disorder or bruxism.
Palpation for submental, submandibular, cervical, and supra/infraclavicular lymphadenopathy may identify signs of possible infection or neoplasm.
Palpation of the thyroid gland may suggest thyroid disease.
---
Did this answer your question?
Additional feedback? (Optional)
Thank you for your feedback!