Answer
Answer
History is the cornerstone of diagnosis. [24] Although burning mouth syndrome (BMS) is a diagnosis of exclusion, several elements are supportive:
Bilateral mouth discomfort (burning/pain)

Pain deep in the oral mucosa

Symptoms present for at least 4-6 months

Symptoms that are nearly constant throughout the day

No clear precipitating factors

Alleviated or aggravated by drinking/eating

Mood or personality disruptions
The absence of any of the above symptoms does not exclude a diagnosis of burning mouth syndrome (BMS). See the image shown below.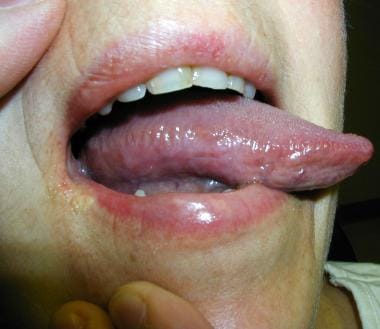 A 55-year-old female with tongue burning for 15 months. The history for cancer risk factors was negative. Examination failed to reveal any systemic or local causes. Diagnosis of burning mouth syndrome (BMS) was made, and the patient received no medical treatment except for serial examinations.
---
Did this answer your question?
Additional feedback? (Optional)
Thank you for your feedback!