Answer
Answer
Burning mouth syndrome (BMS) is an idiopathic condition characterized by a continuous burning sensation of the mucosa of the mouth, typically involving the tongue, with or without extension to the lips and oral mucosa. Classically, burning mouth syndrome (BMS) is accompanied by gustatory disturbances (dysgeusia, parageusia) and subjective xerostomia. By definition, no macroscopic alterations in oral mucosa are apparent. Burning mouth syndrome (BMS) occurs most frequently, but not exclusively, in peri-menopausal and postmenopausal women. [1, 2, 3, 4, 5]
See the following illustration.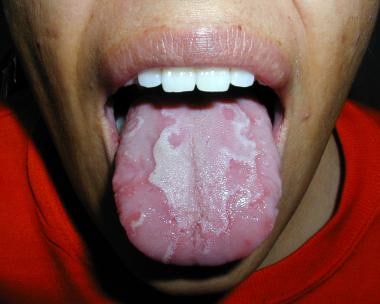 A 29-year-old female presents with tongue irritation. A diagnosis of benign migratory glossitis (geographic tongue) is made by the appearance. The portions of the tongue with atrophic filiform papilla are symptomatic to acidic foods.
Burning mouth syndrome (BMS) is a clinical diagnosis made via the exclusion of all other causes. No universally accepted diagnostic criteria, laboratory tests, imaging studies or other modalities definitively diagnose or exclude burning mouth syndrome (BMS).
---
Did this answer your question?
Additional feedback? (Optional)
Thank you for your feedback!