Answer
Sterile gloves are required.
A liver biopsy tray should be available that contains the following items (see the image below):
Core biopsy needle, preferably 16 gauge, 11.5 cm

Povidone-iodine solution

Formalin bottle (specimen container)

Injection needle, 21 gauge, 3.75 cm

Injection needle, 25 gauge, 2.5 cm

Sterile drape(s)

Saline solution (0.9%), 10-mL ampule

Surgical scalpel blade

Gauze pads, 7.5 × 7.5 cm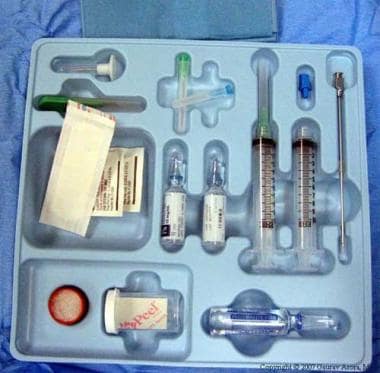 Liver biopsy tray.
Appropriate vials should be available for cultures and special stains, if indicated.
A study comparing the adequacy rates of the BioPince (Argon Medical, Frisco, TX; n = 53) 16-gauge and Achieve (Becton Dickinson, Franklin Lakes, NJ; n = 141) 18-gauge biopsy needles for percutaneous liver biopsy in patients with parenchymal liver disease found that the BioPince needle acquired a significantly greater total core length and a great number of portal tracts, with significantly improved adequacy rates and no major complications. [12]
---
Did this answer your question?
Additional feedback? (Optional)
Thank you for your feedback!