Answer
Apply ice or cold compress to the hernia for several minutes to reduce swelling and allow an easier reduction (see the image below).
Ice pack is applied to patient with left inguinal hernia in Trendelenburg position.
To reduce an abdominal hernia, lay the patient supine. [4] To reduce a groin hernia, place the patient in a 20º Trendelenburg position (this position allows gravity to help retract the herniated tissue into the abdomen or pelvis). In children, a unilateral frog leg position has been shown to align the inguinal rings for better reduction.
Use sufficient early sedation and analgesia if necessary to reduce pain during the procedure. A reduction in pain also helps decrease guarding and abdominal muscular constriction, thereby lowering the intra-abdominal pressure and permitting easier reduction.
Wait 2-30 minutes. Some hernias self-reduce because of the application of cold compresses to reduce edema, the force of gravity, and relaxation of the muscles surrounding the hernia from sedation and analgesia.
Slowly apply pressure distal to the hernia while guiding the proximal portion into the abdomen through the fascial defect (see the images and the video below). Use two hands to facilitate guidance through the fascial defect and simultaneous gentle pressure. This part of the reduction can take 5-15 minutes. Too much distal pressure causes the hernia to balloon around the fascial opening, making reduction more difficult.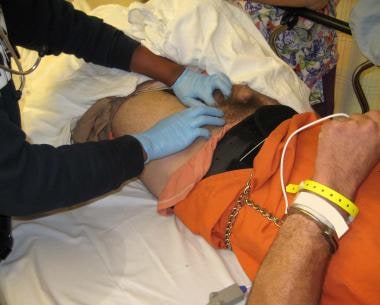 Slow constant pressure is applied to patient with left inguinal hernia.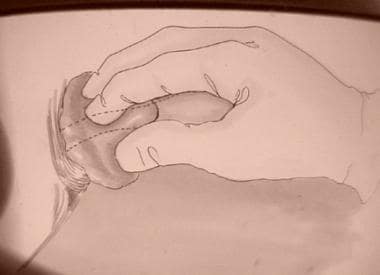 Hernia content balloons over external ring when reduction is attempted.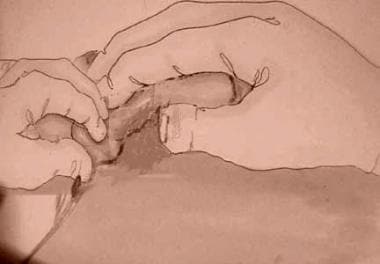 Hernia can be reduced by medial pressure applied first.
Emergency department hernia reduction by surgical resident. Sedation with propofol is required after unsuccessful reduction attempt with opioid analgesia.
Although some references recommend a truss for temporary closure of the fascial defect after successful hernia reduction, the efficacy of this measure has not been proved.
---
Did this answer your question?
Additional feedback? (Optional)
Thank you for your feedback!