Answer
A strangulated hernia (see the image below) is a surgical emergency in which the blood supply to the herniated tissue is compromised. Strangulation stems from herniated bowel contents passing through a restrictive opening that eventually reduces venous return and leads to increased tissue edema, which further compromises circulation and stops the arterial supply.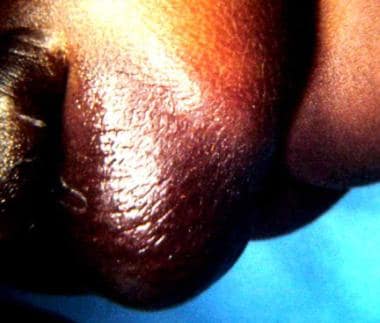 Erythematous edematous left scrotum in 2-month-old boy with history of irritability and vomiting for 36 hours. Local signs of this magnitude preclude reduction attempts.
Such a hernia may be signaled in the early stages by severe pain and by tenderness, induration, and erythema over the herniation site. As tissue necrosis ensues, findings may include leukocytosis, decreased bowel sounds, abdominal distention, and a patient who appears to be toxic, dehydrated, and febrile. Mortality is high, and treatment should be initiated immediately. [16]
---
Did this answer your question?
Additional feedback? (Optional)
Thank you for your feedback!