Answer
An incarcerated hernia cannot easily be returned to its original compartment. The overlying skin should appear to be normal, the contents should not be tense, and bowel sounds can sometimes be heard. The incarcerated tissue may be bowel, omentum, or other abdominal contents. A smaller aperture of herniation and adhesions can precipitate incarceration. An incarcerated hernia can often be reduced manually, especially with sufficient anesthesia. [9, 13]
Obstruction is a concern; a hernia is one of the three most common causes of obstruction. In addition to causing signs of obstruction, an obstructed hernia has a more tense appearance than a nonobstructed hernia, and radiographs may show bowel shadows at the site of herniation. (See the image below.)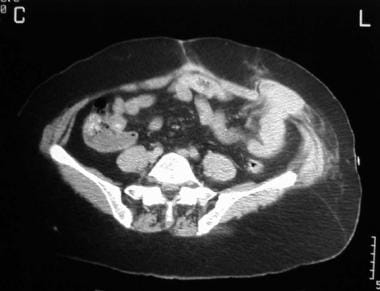 64-year-old woman presents with vague abdominal pain of 2 days' duration. Physical examination reveals tender palpable mass in left lower quadrant. CT reveals incarcerated ventral hernia.
Even with proper sedation and technique, not every hernia can be manually reduced. In such cases, surgical reduction is more urgent to prevent strangulation. [14, 15]
---
Did this answer your question?
Additional feedback? (Optional)
Thank you for your feedback!