Answer
Abdominal hernias include the following:
Umbilical hernia - This type (see the image below) is seen traversing the fibromuscular ring at the umbilicus; commonly seen in infants, it usually resolves by the age of 5 years; repair is indicated when an umbilical hernia develops in older children or adults, is larger than 2 cm, or is incarcerated

[3]

Epigastric hernia - This type is a midline hernia that passes through the linea alba

Spigelian hernia - This rare type is located at the lateral edge of the rectus abdominis and passes through the semilunar line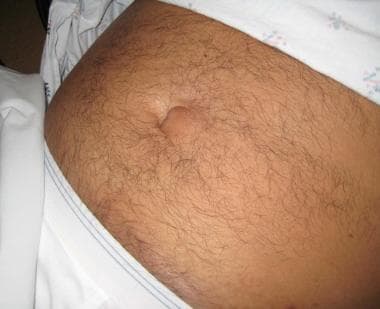 50-year-old man presents with recurrent umbilical hernia, which is reduced in emergency department.
Before surgical repair of a hernia, manual reduction can return the tissue to its original compartment. [4] Reduction benefits the patient by mitigating associated symptoms, avoiding adverse outcomes such as strangulation, and permitting elective surgical repair, which has lower morbidity than emergency repair. [5, 6] The most common hernias amenable to reduction are described in this article.
---
Did this answer your question?
Additional feedback? (Optional)
Thank you for your feedback!