Answer
Certain tubes require specialized plugs, connectors, and clamps, which should be specified on the packaging insert. In addition, some tubes necessitate the use of a hemostat, endotracheal tube stylet, guide wire, or other support to assist tube passage.
Two types of catheters are depicted in the images below.

Commonly used by radiologists, Cope loop catheters (illustrated with a metal introducer stiffener) are easily placed into the stomach. However, their small lumina and small side holes predispose them to catheter occlusion.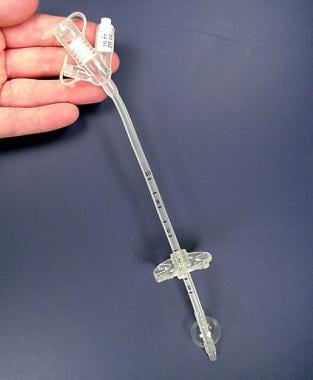 Commonly used for surgical, endoscopic, and radiologic gastrostomy access, balloon catheters provide secure intraluminal retention and are simple to place and replace.
Bentley et al reported the outcomes of balloon vs nonballoon G-tubes in 145 patients, of whom 37.2% had a balloon-type G-tube and 62.8% had a non-balloon-type tube. [7] Patients in the nonballoon group had 1.14 emergency department (ED) visits related to the G-tube (range, 0-15), whereas those in the balloon group had 0.48 (range, 0-6). The nonballoon tubes had both radiologic and surgical tube replacement, whereas the balloon types were managed radiologically. These findings underscore the importance of selection of the appropriate type of G-tube.
---
Did this answer your question?
Additional feedback? (Optional)
Thank you for your feedback!