Answer
Answer
Heat illness is a pervasive problem that is often encountered in patients who present to the emergency department. During summer heat waves, large urban centers see a significant rise in hyperthermia-related fatalities. Heat illness should be thought of as a spectrum of disease from heat cramps to heatstroke. Medication-related hyperthermic conditions such as malignant hyperthermia, serotonin syndrome, and neuroleptic malignant syndrome (NMS) need to be specifically recognized, as the treatment of these diseases requires adjunctive pharmacotherapy (eg, dantrolene, cyproheptadine, bromocriptine, levodopa, amantadine) in addition to rapid cooling measures. Patients may also present with hyperthermia as a consequence of agitated delirium states, which require sedation in addition to aggressive cooling. Understanding basic principles of thermoregulation and the pathophysiology of hyperthermia is essential to treatment. [1, 2]
The image below depicts items used for noninvasive cooling techniques.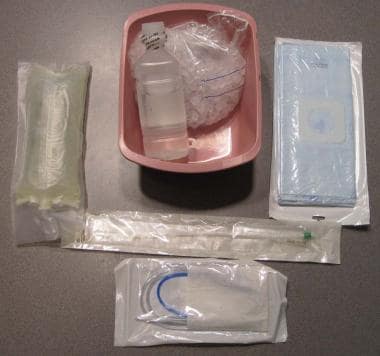 Sample display of equipment useful for various cooling techniques. Clockwise from top: ice pack and water, air-cooling blanket, Foley catheter, and intravenous fluids.
See Heat Illness: How To Cool Off Hyperthermic Patients, a Critical Images slideshow, for tips on treatment options for patients with heat-related illness.
Also, see Football Injuries: Slideshow to help diagnose and treat injuries from a football game, including heatstroke, a major concern in college and high school football.
---
Did this answer your question?
Additional feedback? (Optional)
Thank you for your feedback!