Answer
The hypergranular subtype has frequent Auer rods, clumps of granular material containing lysosomes, peroxidase, lysosomal enzymes, and large crystalline inclusions (see the image below). Auer rods can be seen in other types of AML, but they are usually seen in APL. The nucleus is folded or bilobed, and the cytoplasm contains prominent azurophilic granules. The bone marrow is usually hypercellular. The cells stain intensely for Sudan black and myeloperoxidase, but not for periodic acid–Schiff (PAS) and HLA-DR.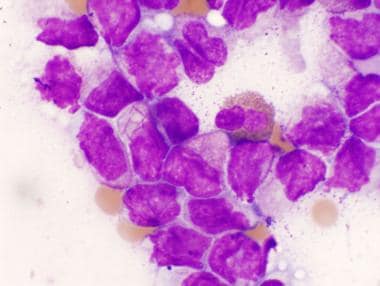 Regularly hypergranular subtype of acute promyelocytic leukemia. Image courtesy of Dr. William Kocher.
The microgranular variant also has a folded nucleus, but the cytoplasm has fine, dusky granules and Auer rods are rare. It is seen in 25% of cases of APL.
The hyperbasophilic subtype shows an increased nucleocytoplasmic ratio and strongly basophilic cytoplasm with blebs. There are few granules and no Auer rods.
The PLZF-RAR alpha variant has regular, condensed chromatin in the nucleus. There are fewer granules and rare Auer rods compared with the hypergranular subtype.
---
Did this answer your question?
Additional feedback? (Optional)
Thank you for your feedback!