Answer
CT scanning commonly reveals septal thickening and diffuse or patchy ground-glass opacities. [40] The presence of subpleural septal thickening (observed in 93% of cases) and diffuse, ill-defined, centrilobular ground-glass opacities (observed in 73% of cases) is highly suggestive of PVOD in patients with pulmonary hypertension. Other findings on CT scans include small nodules, dependent areas of consolidation, lymphadenopathy, and pleural effusions. The association of ill-defined nodules, septal thickening, and lymphadenopathy should raise the suggestion of a diagnosis of PVOD. (See the image below.) [41, 42]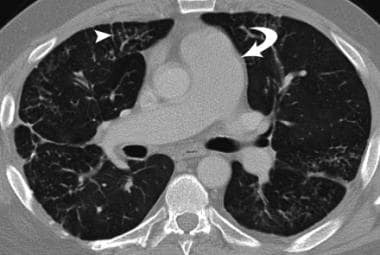 Pulmonary veno-occlusive disease in a 43-year-old man. An axial computed tomography (CT) scan (lung window level) shows multiple septal lines (arrowhead) and a dilated central pulmonary artery (arrow). Image courtesy of Thoracic Imaging Section, Department of Radiologic Pathology, Armed Forces Institute of Pathology.
The ground-glass attenuation may result from alveolar septal thickening and epithelial hyperplasia. The central pulmonary veins and the left atrium are not enlarged, in contrast to patients with mitral stenosis, cor triatriatum, or left atrial myxoma. [43] Pericardial effusion may be present in patients with advanced right-sided heart failure. Enlarged pulmonary arteries resulting from pulmonary hypertension are almost universal.
---
Did this answer your question?
Additional feedback? (Optional)
Thank you for your feedback!