Answer
Regardless of the mechanism of injury, the end result in pulmonary veno-occlusive disease (PVOD) is constriction and/or occlusion of the pulmonary veins and venules. In the early stage, the occlusion may be from loose, edematous tissue, which later transforms into dense and sclerotic fibrous tissue. Eccentric intimal thickening is seen in the lobular septal veins and venules and, rarely, in the larger veins. [6] In addition, dilatation of lymphatics occurs.
The plexiform arterial lesions seen in patients with primary pulmonary hypertension, or idiopathic pulmonary arterial hypertension (PAH), are absent, although some arterial medial thickening may occur. [7] The alveolar capillaries become dilated and engorged from back-pressure and sometimes causes capillary proliferation, which mimics another similar disease, pulmonary capillary hemangiomatosis. Recanalization of veins may occur over time. [8] (See the image below.)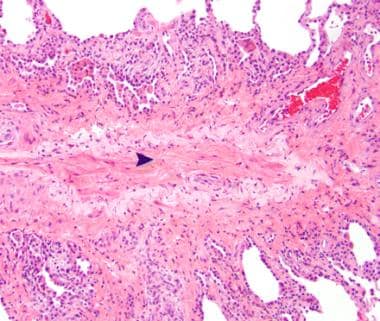 Medium-power photomicrograph (original magnification, X10; hematoxylin and eosin stain) demonstrates a fibrotic interlobular septum containing a vein with an occluded lumen (arrowhead). The occlusion is composed of dense, collagen-rich, fibrous tissue. Image courtesy of Thoracic Imaging Section, Department of Radiologic Pathology, Armed Forces Institute of Pathology.
---
Did this answer your question?
Additional feedback? (Optional)
Thank you for your feedback!