Answer
Histologically, Burkitt lymphoma (BL) is characterized by a monoclonal proliferation of medium-sized, noncleaved B-cells that are uniform in appearance and that produce a diffuse pattern of tissue involvement. These cells typically have a scant basophilic cytoplasm characterized by numerous lipid vacuoles, round nuclei with stippled chromatin and multiple small nucleoli.
Under the microscope, the hallmark of Burkitt lymphoma (BL) is the presence of a "starry sky" appearance (also observed in other highly proliferative lymphomas), imparted by scattered macrophages phagocytizing cell debris and apoptotic cells (tingible body macrophages) (see the image below). [2] However, the starry sky pattern is not pathognomonic for Burkitt lymphoma (BL) and may be observed in other highly proliferative lymphomas. Immunophenotype and cytogenetic studies aid in the diagnosis of Burkitt lymphoma (BL). [2, 45]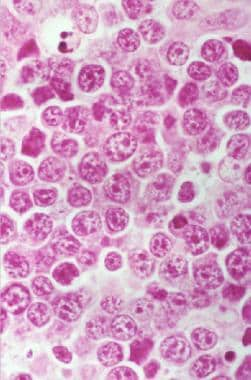 Hematoxylin and eosin (H&E) stain. Sheets of monotonous-appearing lymphoid cells with one or more prominent nucleoli and an area of pale staining resulting from the presence of benign macrophages reveal a starry sky pattern.
Burkitt lymphoma (BL) tumor cells are derived from mutated activated germinal center B-lymphocytes based on the fact that they share the same surface markers such as CD10, CD77, and bcl-6 (nuclear staining only) and the presence of somatic mutations in their immunoglobulins gene, similar to normal germinal center B cells. [51] They also express other B-cell antigens like CD10, CD19, CD20, CD22, as well as HLA-DR and surface immunoglobulin M (IgM) (see the image below). Ki67 staining usually approaches 100%. They typically lack CD5, CD23, TdT and are usually bcl-2 negative. [2] Expression of CD21 (Epstein-Barr virus [EBV]-C3d receptor) is present only in EBV-positive patients (endemic BL). [52]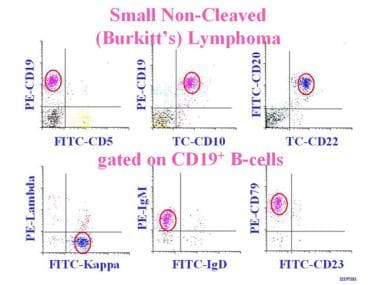 The 2-dimensional flow cytometry demonstrates the highlighted cells to be CD5 negative and CD23 negative as well as lambda negative. Small noncleaved cell lymphoma (SNCCL) cells are typically CD19+, CD20+, CD22+, and CD10+.
---
Did this answer your question?
Additional feedback? (Optional)
Thank you for your feedback!