Answer
Answer
Nebulization provides a vehicle for drug delivery to patients who are too ill or too young to use other portable inhaler devices. [11] The 2 types of nebulizers are pneumatic jet nebulizers and ultrasonic nebulizers.
A pneumatic jet nebulizer (see images below) delivers compressed gas through a jet, causing an area of negative pressure and drawing the liquid up the tube by the Bernoulli effect. The solution is entrained into the gas stream and then sheared into a liquid film that is unstable and is broken into droplets by surface tension forces. The fundamental concept of nebulizer performance is the conversion of the medication solution into droplets in the respirable range of 1-5 micrometers. [27]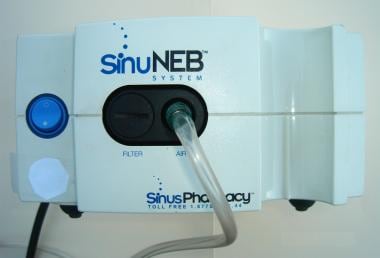 Pneumatic jet nebulizer.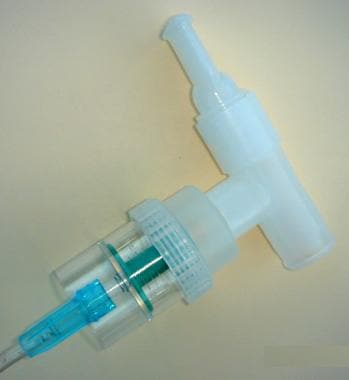 Jet nebulizer hand unit.
Jet nebulizer schematic.
An ultrasonic nebulizer generates high-frequency ultrasonic waves (1.63 MHz) from electrical energy via a piezoelectric element in the transducer. These ultrasonic waves are transmitted to the surface of the solution to create an aerosol. Aerosol delivery is by a fan or the patient's inspiratory flow; particle sizes may be larger with this device. A limitation of ultrasonic nebulizers is that they do not nebulize suspensions efficiently. [11]
Ultrasonic nebulizers may be used with all nebulized medications except Pulmicort Respules suspension (most nebulized medications are solutions). Pulmicort Respules cannot be used with nebulizer units that generate heat, as is the case with most ultrasonic nebulizers (with the exception of the Omron MicroAir).
---
Did this answer your question?
Additional feedback? (Optional)
Thank you for your feedback!