Answer
The most common clinical manifestation is the pigmenting fixed drug eruption, which usually manifests as round or oval, sharply demarcated erythematous/edematous plaques located on the lip, hip, sacrum, or genitalia. [2] These erythematous patches or plaques gradually fade with residual hyperpigmentation (see images below). The center of the patch may blister or become necrotic. Other less common variants may manifest as lesions resembling erythema multiforme, toxic epidermal necrolysis, eczema, urticaria, a linear pattern following Blaschko lines, bullous lesions, a migrating eruption, or a nonpigmenting form with no postinflammatory hyperpigmentation. [3] Pseudoephedrine, [52] piroxicam, [53] cotrimoxazole, [54] sorafenib, [55] and tadalafil [56] have all been reported to cause the nonpigmenting form of this condition.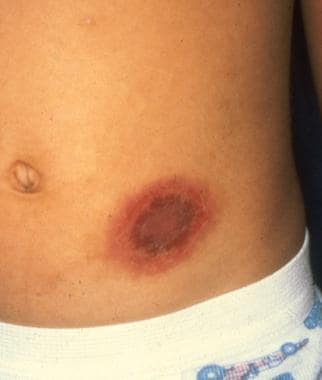 Targetoid fixed drug eruption on the abdomen of a child.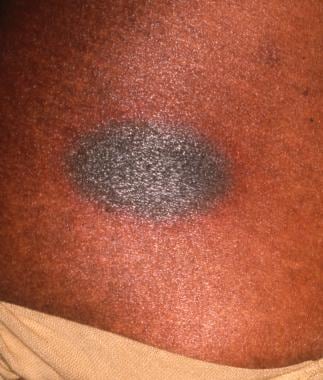 Hyperpigmented fixed drug eruption on the hip of an adult.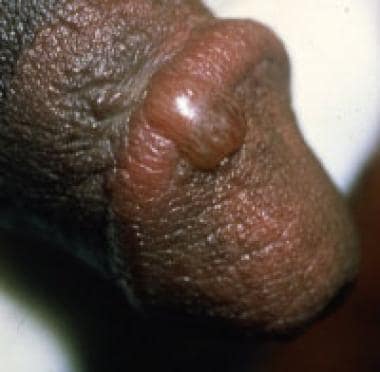 Vesicular fixed drug eruption on the glans penis.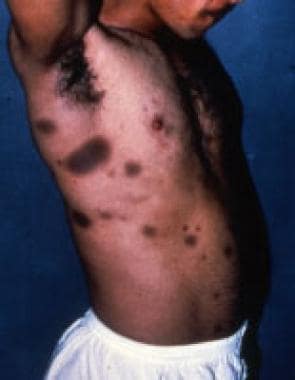 Multiple hyperpigmented fixed drug eruptions on the trunk.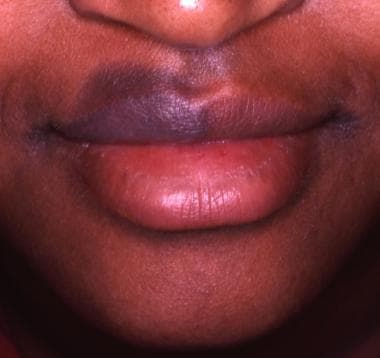 Hyperpigmented fixed drug eruption on the right side of the upper lip.
---
Did this answer your question?
Additional feedback? (Optional)
Thank you for your feedback!