Answer
Every dissected (thus denervated) axilla is dry, even if no sweat glands are resected. Therefore, long-term outcome of sweat gland resection can only be judged after 6 months, when reinnervation should already have taken place. Most patients have a dry axilla for the few months following surgery, then develop some sweating, which the patients characterize as "normal." With meticulous dissection, long-term relief of hyperhidrosis approaches 95%. In a study of use of a mechanical gland-shaving device, Park et al reported an overall satisfaction rate of 94.7% with a complication rate of 13.2%. [23]
See the image below.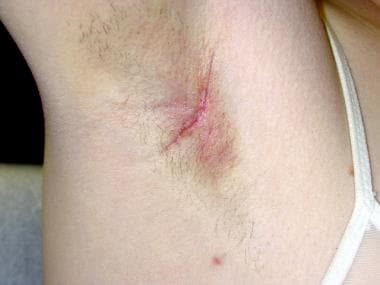 Surgical treatment of axillary hyperhidrosis. Modified Skoog procedure: Resulting scar at 2 months after surgery. Note the normal texture and appearance of axillary skin and the normal hair pattern. The pink coloration usually is gone at 4-5 months. Image courtesy of Richard H S Karpinski, MD.
---
Did this answer your question?
Additional feedback? (Optional)
Thank you for your feedback!