Answer
Answer
Cutaneous angiosarcoma of the head and neck is a unique disease. It usually occurs in the dermis of the scalp and less often in the upper face. Typically, the disease manifests clinically with multiple separate foci, especially when it originates in the scalp (see images below). Angiosarcoma manifesting in the lower face is uncommon, and neck presentations are rare. According to Morrison et al, the rate of regional nodal involvement, reported to be 20-30%, is higher than that of most sarcomas. [7] However, in their review, Perez et al observed only 7% of patients to have regional nodal involvement. [1]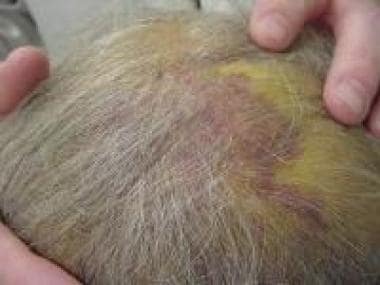 The most common presentation of a scalp angiosarcoma involves lesions that are single or multifocal; bluish or violaceous; nodules, plaques, or flat infiltrating areas; and occasionally may bleed or ulcerate. Most often, the tumors are on relatively exposed skin, either with no or very thin hair.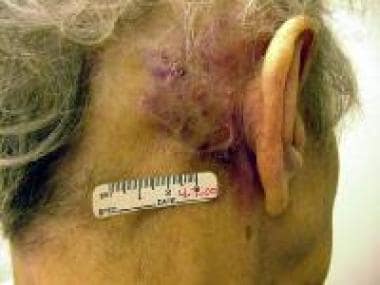 Cutaneous angiosarcomas primarily affect elderly persons and are usually located on the head and neck, particularly in the area of the scalp and upper forehead.
---
Did this answer your question?
Additional feedback? (Optional)
Thank you for your feedback!