Answer
Answer
Psoriasis is one of the most common dermatoses (see the image below). [25] Its prevalence varies from 0.5-3% of the US population. It appears as a chronic, bilaterally symmetric, erythematous plaquelike lesion with a silvery scale. The lesions classically are located over the extensor surfaces, including the elbows, knees, back, buttocks and scalp. Confluent generalized lesions also may occur. A multifactorial inheritance pattern is suggested. These factors include familial clusters, trauma, streptococcal infection, and endocrine changes. However, most cases occur without a precipitating event.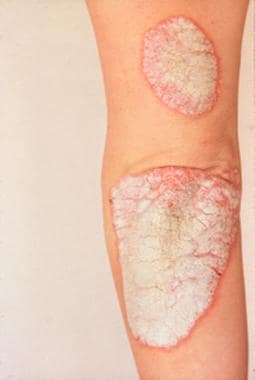 Psoriasis.
---
Did this answer your question?
Additional feedback? (Optional)
Thank you for your feedback!