Answer
Answer
While this lesion often is included in tumors of the skin adnexum, it is actually an epithelial nevus. Nevus sebaceus of Jadassohn, or verrucous epidermal nevi (some consider a variant), is a hamartomatous lesion expressing elements of sebaceous and apocrine glands, defective hair follicles, acanthosis, and papillomatosis. It is a congenital lesion, usually present on the scalp and face. The lesion tends to enlarge with time.
A nevus sebaceus of Jadassohn is shown in the image below.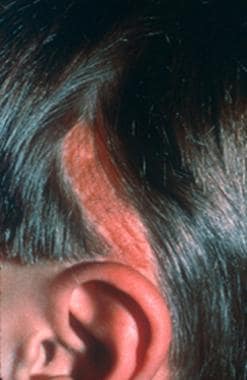 Macular benign skin lesion: Nevus sebaceous of Jadassohn.
---
Did this answer your question?
Additional feedback? (Optional)
Thank you for your feedback!