Answer
Answer
Nevus sebaceus of Jadassohn is a congenital, yellowish plaque seen on the head and neck. While this lesion often is included in tumors of the skin adnexum, it is actually an epithelial nevus. On histopathology, nevus sebaceus of Jadassohn, or verrucous epidermal nevi (some consider a variant), has a papillomatosis appearance with acanthosis, sebaceous hyperplasia and often absent hair follicles. The lesion tends to enlarge and become more warty in appearance with time.
A nevus sebaceus of Jadassohn is shown in the image below.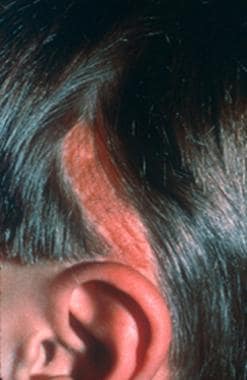 Macular benign skin lesion: Nevus sebaceous of Jadassohn.
Tumors may arise in nevus sebaceus over time; however, the majority of tumors are benign. The most common two benign tumors which develop are syringocystadenoma papilliferum and trichoblastoma. Rarely, malignant tumors, predominantly basal cell carcinoma, can develop in nevus sebaceus. Nevus sebaceus lesions tend to be yellowish orange, waxy, hairless plaques. An accelerated growth phase may be observed during adolescence secondary to changes in the hormonal milieu.
---
Did this answer your question?
Additional feedback? (Optional)
Thank you for your feedback!