Answer
Answer
Keloids are fibrotic, papular lesions that usually occur as an aberrant healing response to cutaneous injuries, such as acne, trauma, surgery, and piercing. [1] Common sites for keloid occurrences are the earlobes, chest, lower legs, upper back, and jaw line. Keloids, unlike hypertrophic scars, grow beyond the borders of the original scar. Keloids may be associated with pruritus, pain, and, occasionally, a burning sensation.
A keloid is shown in the image below.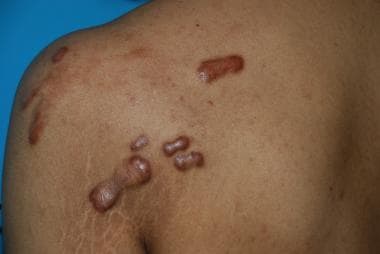 Papular lesions: Keloids developed from back acne.
---
Did this answer your question?
Additional feedback? (Optional)
Thank you for your feedback!