Answer
Answer
Pyogenic granuloma is a rapidly proliferating, solitary lesion of mostly disorganized vascular growth known for its bleeding tendencies. Also known as a cutaneous ectasia, it is commonly associated with minor previous trauma to the area. While the size varies, it is usually smaller than 1 cm in greatest dimension and often it has a collarette of scale around the base. Typical locations include the face, fingers, and thorax. Clinically, melanoma must be excluded. These lesions may become eroded, crusted, ulcerated, or even occasionally infected. With light trauma, they can bleed easily.
A pyogenic granuloma is shown in the image below.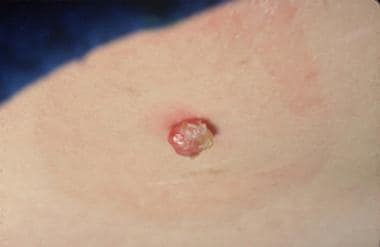 Papular benign skin lesion: Pyogenic granuloma.
---
Did this answer your question?
Additional feedback? (Optional)
Thank you for your feedback!