Answer
Answer
Acrochordons are extremely common lesions found in middle-aged and older persons. They are frequently found on the cervical region, axilla, upper trunk, and eyelids. Skin tags are of low clinical significance except for the questions and concerns they can generate for the patient. Synonyms for acrochordon are skin tag or fibroepithelial polyp. [1, 2, 3] (An acrochordon is shown in the image below.)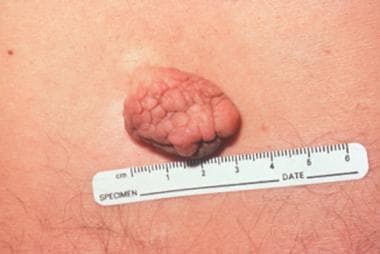 Papular benign skin lesion: Acrochordon (skin tag).
Acrochordons can be associated with pregnancy, diabetes mellitus, and intestinal polyposis syndromes. They can also occur after trauma. They tend to be located in the intertriginous areas of the axilla, groin, and inframammary regions, as well as in the low cervical area along the collar line. They are soft, fleshy papules and usually, although not necessarily, pedunculated. The lesions are single or multiple and can vary in diameter from 1-6 mm. Acrochordons all consist of a thin squamous epithelium surrounding a fibrovascular core.
Whether this is a specific entity or a common pathway in healing and recovery of several nonspecific inflammatory conditions of the skin is debatable. No treatment is required; however, acrochordons are removed to address bleeding, irritation, cosmesis, and discomfort. Occasionally, a lesion may twist on its stalk and become painful, erythematous, and necrotic. They may be electrodesiccated, shaved, or removed with cryoablation. Larger acrochordons may require surgical excision for the best cosmetic result.
Go to Acrochordon for complete information.
---
Did this answer your question?
Additional feedback? (Optional)
Thank you for your feedback!