Answer
Answer
The physical characteristics of the lesion are always best represented with visual documentation. For textual documentation, specific terminology is used to describe the considerable number of possible physical characteristics of a skin lesion.
Gross morphologic terms describe the exterior physical appearance of the lesion visible with the naked eye. Histiologic terms primarily refer to characteristics seen with microscopic pathology examinations but can also be used to describe more specific exterior findings. Understanding of histiologic terms requires knowledge of the anatomical layout of skin and the associated cells and extracellular matrix content that populate each layer. (For more information, see Skin Anatomy. Also, see the illustration below of skin anatomy.)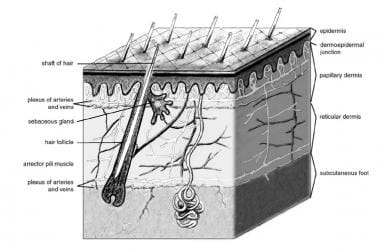 Anatomy of the skin.
To facilitate accurate communication of the description of skin lesions between medical personnel, a multitude of descriptive terms have been developed. The terminology can largely be categorized as gross morphologic (see Gross Morphologic terms below) or histologic descriptions (see Histologic Terms, below). The purpose of these potentially confusing terms is to describe an oftentimes-complex visual finding into verbal and written form that can be understood by colleagues.
---
Did this answer your question?
Additional feedback? (Optional)
Thank you for your feedback!