Answer
Answer
The accurate diagnosis of any skin lesions can be made by histologic examination of a skin biopsy. However, clinicians must gain the clinical acumen to correctly identify common benign skin lesions and to distinguish those skin conditions that do need a biopsy and possible further treatment.
The image below demonstrates a common benign skin lesion algorithm.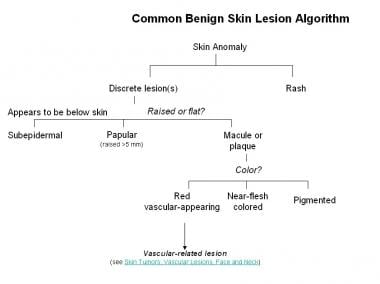 Common benign skin lesion algorithm. (Concept and original organization courtesy of Scott Bangs, MD, Owatonna Clinic - Mayo Health System)
---
Did this answer your question?
Additional feedback? (Optional)
Thank you for your feedback!