Answer
Answer
When a patient with rheumatoid arthritis (RA) develops joint deformities in the hand or wrist that are unresponsive to medical management, surgical intervention is often necessary. [1, 2, 3] These deformities lead to loss of the ability to grip, grasp, and pinch, often leaving the patient unable to perform the activities of daily living. See the images below.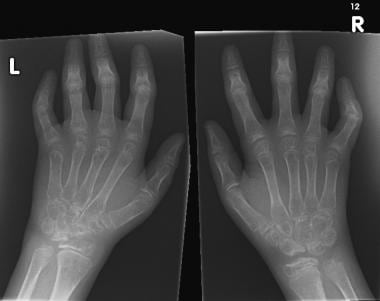 Widespread osteopenia, carpal crowding (due to cartilage loss), and several erosions affecting the carpal bones and metacarpal heads in particular in a child with advanced juvenile rheumatoid arthritis (also known as juvenile idiopathic arthritis).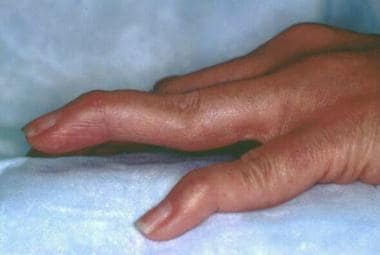 Rheumatoid changes in the hand. Photograph by David Effron MD, FACEP.
See Rheumatoid Arthritis: In and Out of the Joint, a Critical Images slideshow, to help identify the distinguishing features of RA as well as the signs of extra-articular manifestations of this disfiguring disease.
Appropriately timed surgical intervention helps alleviate pain, improve function, retard progression of the disease, and improve appearance. [4] Consequently, independence is greater and self-image is improved.
A study by Okura et al reported that out of 67 patients who underwent primary elective elbow, wrist, or hand surgery for rheumatoid arthritis (RA), almost 85% expressed satisfaction with the treatment's outcome at the involved site, particularly with regard to pain relief, at 10-year follow-up. [5]
---
Did this answer your question?
Additional feedback? (Optional)
Thank you for your feedback!