Answer
Answer
A total mastectomy is defined as complete removal of all breast tissue to the clavicle superiorly, the sternum medially, the inframammary crease inferiorly, and the anterior axillary line laterally, with en bloc resection of the fascia of the pectoralis major. The nipple-areolar complex (NAC) is resected along with a skin paddle to achieve a flat chest wall closure when performing a total mastectomy. A total mastectomy does not refer to removal of any axillary nodes but may be performed in conjunction with a sentinel or axillary node dissection.
A modified radical mastectomy is defined as a total mastectomy with axillary lymph node dissection. In contrast, a radical mastectomy is defined as a total mastectomy plus en bloc resection of the pectoralis major and axillary lymph node dissection. Extended radical mastectomy refers to a radical mastectomy with resection of the internal mammary lymph nodes. Historically, radical (Halsted) mastectomy was the most commonly performed procedure for breast cancer. See the image below.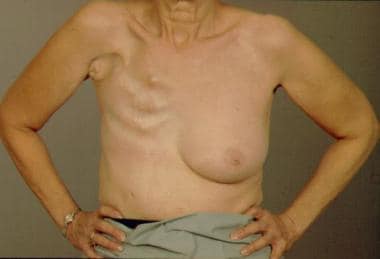 Radical mastectomy defect.
Two modern variations of the total mastectomy include the skin-sparing total mastectomy (SSM) and the nipple-sparing total mastectomy (NSM). [10] These operations refer to surgical approaches designed for patients who elect to have immediate reconstruction.
Both SSM and NSM are minimally invasive surgical approaches that are technically more difficult and, thus, more time-consuming than traditional mastectomy. SSM and NSM result in preservation of the patient's skin envelope and maintain the position of the inframammary fold. However, both SSM and NSM are intended to be complete total mastectomies with the same extent of resection as a traditional total mastectomy.
These operations may not be appropriate for cancers near the skin or nipple. Additionally, SSM or NSM are not appropriate for locally advanced or inflammatory breast cancer. Multiple retrospective single-institution studies have reported excellent results with SSM and NSM. [11] No randomized clinical trials have compared survival results for SSM, NSM, and total mastectomy. One study analyzed breast cancer recurrence data on patients who had undergone mastectomy with immediate reconstruction versus those who had not undergone reconstruction after mastectomy and concluded that neither incidence nor time to detection of recurrent disease was impacted by reconstruction. [12]
However, most surgical oncologists accept that as long as SSM and total mastectomy are performed carefully and patients are selected carefully, these are reasonable oncologic choices for prophylactic mastectomy and for the treatment of selected early stage breast cancers. [13]
A relative contraindication to modified radical mastectomy is locally advanced cancer requiring neoadjuvant therapy before surgical intervention.
---
Did this answer your question?
Additional feedback? (Optional)
Thank you for your feedback!