Answer
Answer
The main weakness of FNAB involves hypocellular aspirates and aspirates with high follicular cellularity. Hypocellular aspirates may be observed in cystic nodules, or they may be related to biopsy technique. The addition of ultrasonography to guide FNAB sometimes reduces technical errors. Furthermore, ultrasonography-guidance combined with on-site verification of the adequacy of the specimen by a cytotechnologist or a pathologist is likely to reduce the rate of nondiagnostic specimens.
See the image below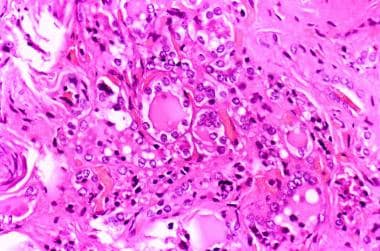 Histologic pattern of a mildly differentiated follicular thyroid carcinoma (250 X). Image courtesy of Professor Pantaleo Bufo at University of Foggia, Italy.
Aspirates characterized by high follicular cellularity suggest follicular neoplasm; however, FNAB cannot be used reliably to distinguish a benign follicular neoplasm from a malignant neoplasm. In addition, aspirates that are highly cellular with Hürthle cells can be observed with benign or malignant Hürthle-cell neoplasms and with some cases of Hashimoto thyroiditis. [17]
Advances in cytologic analysis may increase the predictive value of FNAB of thyroid nodules. For example, the incorporation of immunocytochemical studies, as well as genetic and molecular profiling of aspirates, may improve the accuracy of minimally invasive diagnostic techniques. In the specific case of aspirates revealing cytology of indeterminant significance or follicular lesions, the use of molecular testing such as the Afirma gene expression classifier can aid in decision making regarding recommendations for surgery. [18]
In those cytopathologic classifications where risk of malignancy is relatively indeterminate (Atypia of undetermined significance, follicular neoplasm), improvement in the assessment of the risk of malignancy might be achieved by viewing the cytopathologic results in the context of ultrasonographic characteristics suspicious for malignancy.
An Italian study compared the effectiveness of FNAB with that of fine-needle nonaspiration biopsy or "capillary technique" (FNNAB) in the evaluation of thyroid nodules. [19] The 2 techniques were performed on the same 104 patients who were known to have a uninodular or multinodular goiter. No statistically significant difference was found between the adequacy of samples obtained through FNAB and those collected through FNNAB in the diagnosis of colloid, follicular, or malignant nodules. The only significant difference was in the percentage of samples yielding inadequate results (16.3% and 5.8% for FNAB and FNNAB, respectively). The authors suggested that the frequency of inadequate samples was lower for FNNAB because the technique allows better-quality specimens to be collected. Otherwise, the investigators found both techniques to be useful and cost-effective.
Ultrasonography-guided FNAB has become increasingly more common. Clinicians need adequate sampling during biopsies to provide an accurate diagnosis and to avoid repeating the procedure. Insufficient experience with the technique of ultrasonography-guided FNAB is an important factor in the yield of this procedure. One study found, not surprisingly, that physicians who have more experience in performing ultrasonography-guided FNAB have lower rates of inadequate samples. [20] Although the inexperienced group had smaller size nodules, this probably does not affect the results given the obvious difference in competency rates.
---
Did this answer your question?
Additional feedback? (Optional)
Thank you for your feedback!