Answer
Answer
In most centers, the routine initial diagnostic evaluation of a solitary thyroid nodule no longer includes nuclear imaging studies. In the past, radionuclide scanning was an important imaging study performed routinely in the initial assessment of a thyroid nodule. Nuclear imaging can be used to describe a nodule as hot, warm, or cold on the basis of its relative uptake of radioactive isotope. Hot nodules indicate autonomously functioning nodules, warm nodules suggest normal thyroid function, and cold nodules indicate hypofunctional or nonfunctional thyroid tissue. (Examples of hot and cold nodules are seen in the image below.) Hot nodules are rarely malignant; however, 5-8% of warm or cold nodules are malignant. [4]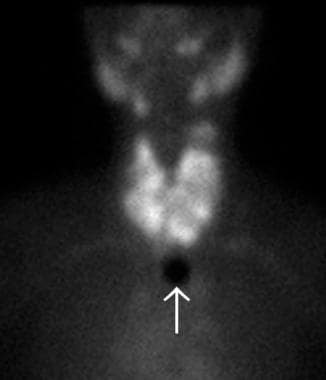 Technetium-99m (99mTc) thyroid scan of a large, nontoxic multinodular goiter. Multiple cold and hot nodules are observed in the enlarged thyroid gland. The white arrow indicates the sternal notch marker.
---
Did this answer your question?
Additional feedback? (Optional)
Thank you for your feedback!