Answer
Answer
Nodular disease of the thyroid gland is prevalent in the United States. The lifetime risk for developing a palpable thyroid nodule is estimated to be 5-10%, however, high resolution ultrasound has revealed thyroid nodules in 19-68% of randomly selected individuals [1] ; the condition affects more women than men.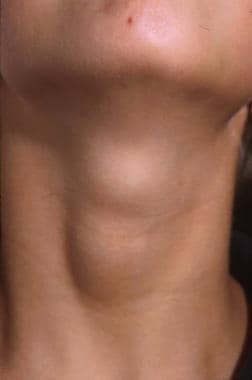 A 12-year-old patient with an asymptomatic, palpable thyroid nodule, which was noticed upon routine physical examination.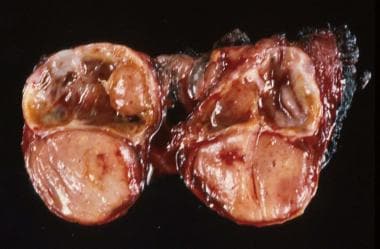 Surgical specimen of a thyroid lobe with papillary carcinoma, taken from a 12-year-old patient with an asymptomatic, palpable thyroid nodule; the nodule was noticed upon routine physical examination.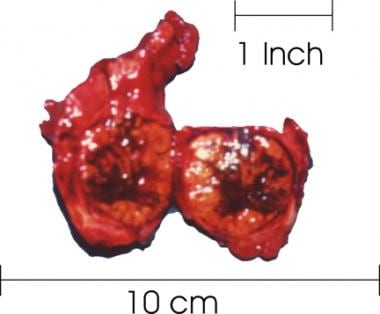 Thyroid with a large goiter. The right lobe of the thyroid was sectioned and reveals a large, solid nodule with necrotic and hemorrhagic areas. The histologic diagnosis was follicular thyroid carcinoma.
While nodular disease of the thyroid is common, malignancy of the thyroid occurs in only 7-15% of nodules. The incidence of both thyroid nodules and thyroid malignancy has increased rapidly in recent years. Most recent data for the US indicates approximately 63,000 new thyroid cancer cases/year. This increase is thought to largely be related to early detection by high resolution ultrasound and discovery of sub-clinical thyroid nodules. [2] The likelihood that the increased incidence of thyroid cancer being related to early detection is supported by evidence suggesting survival rates for thyroid cancer have remained fairly stable. [3]
While roughly 7-15% of thyroid nodules are malignant; the remainder represent a variety of benign diagnoses, including colloid nodules, degenerative cysts, hyperplasia, thyroiditis, or benign neoplasms. A rational approach to management of a thyroid nodule is based on the clinician's ability to distinguish the more common benign diagnoses from malignancy in a highly reliable and cost-effective manner.
See 10 Patients with Neck Masses: Identifying Malignant versus Benign, a Critical Images slideshow, to help identify several types of masses.
---
Did this answer your question?
Additional feedback? (Optional)
Thank you for your feedback!