Answer
Breast reconstruction entered the modern era with the introduction of the transverse rectus abdominis myocutaneous (TRAM) flap in 1982 by Hartrampf, Scheflan, and Black. This ingenious procedure reliably transfers autogenous tissue from the abdomen for breast reconstruction and has the added benefit of abdominal rejuvenation. See the image below.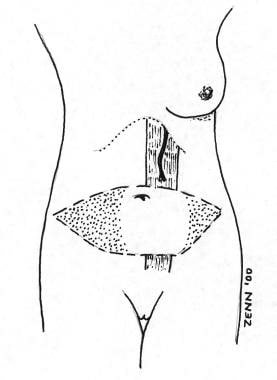 Blood supply to the unipedicled transverse rectus abdominis myocutaneous (TRAM) flap. Note the superior epigastric supply and the shaded area of the TRAM flap to be discarded.
This procedure now constitutes 25-50% of breast reconstructions performed in the United States, and the TRAM flap has proven the autogenous tissue of choice for breast reconstruction.
The main advantage of the procedure lies in the consistency of the reconstructed breast; it is similar to the natural breast in softness and in the way the tissue drapes on the chest. Because the tissue is part of the patient's body, it does not incite foreign body reaction or capsular contractures, which have plagued implant reconstructions. Furthermore, since scars fade and tissues soften, the reconstruction only improves over time, which is not true of implant reconstructions. When performed properly in the properly selected patient, the TRAM flap procedure produces a breast reconstruction superior to any other technique. [1]
---
Did this answer your question?
Additional feedback? (Optional)
Thank you for your feedback!