Answer
Shaping and creating the breast mound allows the surgeon to express his or her artistic abilities. The opposite mound is matched by positioning the tissues, folding or stacking the flap, and other maneuvers. The surgeon always must anticipate the effects of healing, scar tissue, gravity, and mound shrinkage (approximately 10%) during the initial shaping to limit the need for revisions. These factors may vary greatly among patients, and the patient should expect revisions.
In patients with skin-sparing mastectomy, only the nipple and areola are removed with breast tissue. All of the breast skin is spared. The reconstructive burden is lessened and most of the skin of the TRAM flap is removed, allowing the breast envelope to fill with abdominal fat (see images below).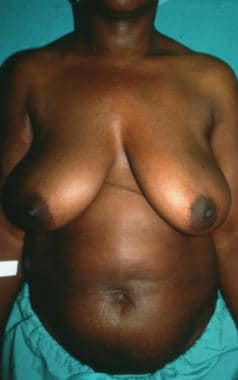 Patient 1. This patient has a large breast to match and is not interested in a breast reduction. Note the ample lower abdominal tissues available for reconstruction.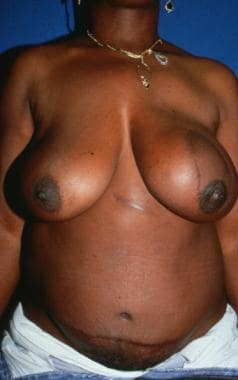 Patient 1. Postoperative view at 1 year after all stages of reconstruction were complete. Bipedicle transfer allows reliable transfer of a large bulk of lower abdominal tissues to match the large opposite breast. Note the improved abdominal contour, a benefit of the transverse rectus abdominis myocutaneous procedure.
---
Did this answer your question?
Additional feedback? (Optional)
Thank you for your feedback!