Answer
Hartrampf, Scheflan, and Black brought breast reconstruction into the modern era with the introduction of the transverse rectus abdominis myocutaneous (TRAM) flap in 1982. [1, 2, 3] This ingenious procedure reliably transfers autogenous tissue for reconstruction and has the added benefit of abdominal rejuvenation. Although initially designed by Hartrampf as a single pedicle flap, lower abdominal tissues may be transferred with 2 muscle pedicles (see image below). The TRAM flap procedure, in all its varieties, now comprises 25-50% of breast reconstructions performed in the United States and has become the autogenous tissue of choice for breast reconstruction. The use of the bipedicled TRAM is not as common as the single muscle pedicle or free TRAM variants but is still indicated in certain situations.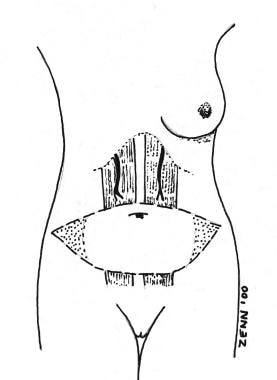 Blood supply to bipedicle transverse rectus abdominis myocutaneous (TRAM) flap. Note the bilateral superior epigastric blood supply and the shaded area of the TRAM flap to be discarded.
---
Did this answer your question?
Additional feedback? (Optional)
Thank you for your feedback!