Answer
Answer
Nuclear medicine scanning with radiolabeled sestamibi is also a widely used technique. Sestamibi is commonly used in cardiac imaging and was found serendipitously to accumulate in parathyroid adenomas. This radionuclide is concentrated in thyroid and parathyroid tissue but usually washes out of normal thyroid tissue in under an hour. It persists in abnormal parathyroid tissue. See the image below.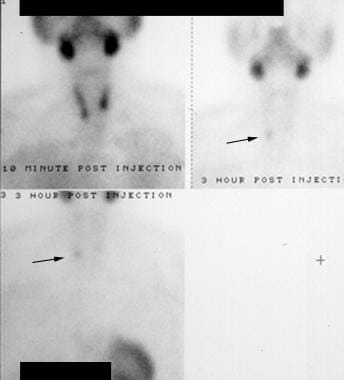 Hyperparathyroidism. Technetium-99m (99mTc) sestamibi radionuclide scan. The early image (top left) shows uptake in the salivary glands and thyroid. The later images (right and bottom) show washout from the thyroid but persistence in the region of the right inferior thyroid lobe (arrows). This proved to be a right parathyroid adenoma.
On delayed images, an abnormal parathyroid is seen as a persistent focus of activity. The scan's sensitivity for detecting solitary adenomas has varied widely in the literature but generally is reported as 60-90%. The main weakness of this test is in diagnosing multiglandular disease. In this case, sensitivity drops to approximately 50%. [2] Most modern sestamibi scans are performed with single-photon computed tomography (SPECT). This technique (see the image below) combines the detection of the radioactivity with the detailed imaging of CT scanning, allowing better sensitivity and more precise anatomic localization than standard planar imaging (as shown above).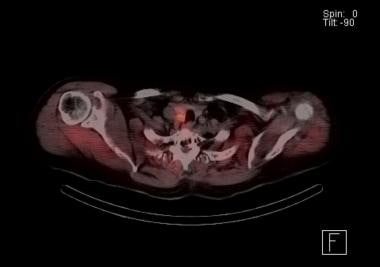 Sestamibi parathyroid scan with SPECT scan. The orange indicates radionuclide accumulation. The findings indicate the presence of a right-sided parathyroid adenoma just behind the thyroid lobe. At exploration, this patient was found to have adjacent double adenomas on the right.
One major advantage of the sestamibi parathyroid scan is the ability to detect ectopic parathyroid glands, particularly in the mediastinum.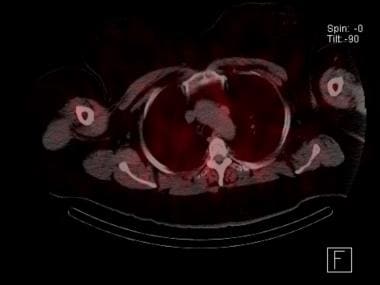 Sestamibi parathyroid scan with SPECT scan showing an ectopic mediastinal parathyroid adenoma adjacent to the aortic arch. This patient had undergone a failed neck exploration. A transthoracic, robotic excision was curative.
---
Did this answer your question?
Additional feedback? (Optional)
Thank you for your feedback!