Answer
Answer
Through their secretion of parathyroid hormone (PTH), the parathyroid glands are primarily responsible for maintaining extracellular calcium concentrations. Hyperparathyroidism is a disease characterized by excessive secretion of parathyroid hormone, an 84–amino acid polypeptide hormone. The secretion of parathyroid hormone is regulated directly by the plasma concentration of ionized calcium. See the image below.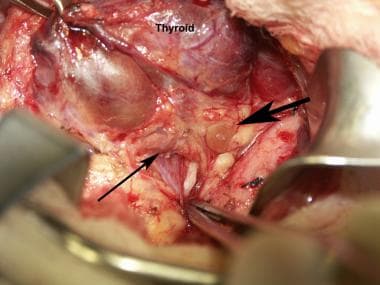 Normal parathyroid glands as seen during a thyroidectomy. The large arrow points to the superior parathyroid. The thinner arrow points to the inferior parathyroid. The forceps points toward the recurrent laryngeal nerve. The patient's head is toward the top right.
The main effects of parathyroid hormone are to increase the concentration of plasma calcium by increasing the release of calcium and phosphate from bone matrix, increasing calcium reabsorption by the kidney, and increasing renal production of 1,25-dihydroxyvitamin D-3 (calcitriol), which increases intestinal absorption of calcium. Thus, overproduction of parathyroid hormone results in elevated levels of plasma calcium. Parathyroid hormone also causes phosphaturia, thereby decreasing serum phosphate levels. Hyperparathyroidism is usually subdivided into primary, secondary, and tertiary hyperparathyroidism.
---
Did this answer your question?
Additional feedback? (Optional)
Thank you for your feedback!