Answer
CT of the skull (see the image below) may show pituitary adenoma. Pathologic bone findings may be solitary (MFD) or multiple (PFD). The bones most frequently affected in MAS are the femur, tibia, ribs, and facial skeleton. A specific change involving the fibula is the presence of pseudocystic areas. This change is referred to as the shepherd's crook deformation; it is due to the weight put on a less resistant bone, and the occurrence of many secondary cortical microfractures is not uncommon. Ground glass–like areas occur in the femur.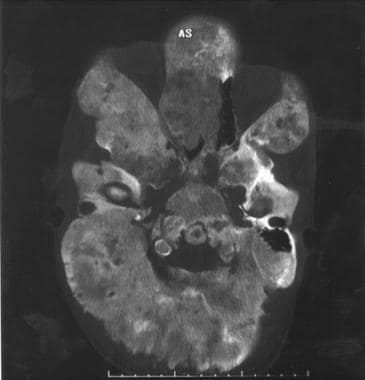 Base of the skull computed tomography scan showing extensive fibrous dysplasia in McCune-Albright syndrome. Note the asymmetrical affectation, with near-total obliteration of various neural foramina at the base of the skull. This degree of fibrous dysplasia can result in multiple cranial nerve compression neuropathies, of which blindness and deafness (from involvement of cranial nerves II and VIII) are among the most disabling.
Abdominal CT can help evaluate infantile Cushing syndrome. Bilateral enlargement of the adrenal glands is consistent with the adrenal hyperplasia seen in infantile Cushing syndrome secondary to MAS. Unilateral enlargement is more consistent with an adrenal adenoma or adrenocortical carcinoma.
---
Did this answer your question?
Additional feedback? (Optional)
Thank you for your feedback!