Answer
In MAS, plain bone radiographs typically show multiple patchy areas of bony lysis (see the first image below) and sclerosis. The findings are consistent with bone dystrophy (ie, areas of hypertrophy and geodes bounded by fine sclerotic rims). Mixed radiopaque and radiolucent areas with thin or hypertrophic cortices are present (see the second image below).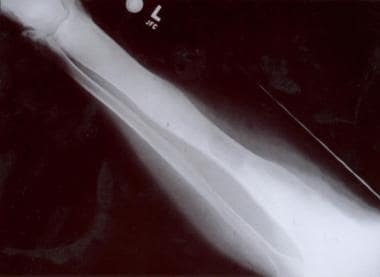 Fibrous dysplasia of a long bone characterized by focal bony expansion, patchy areas of sclerosis, and bony cyst formation in McCune-Albright syndrome.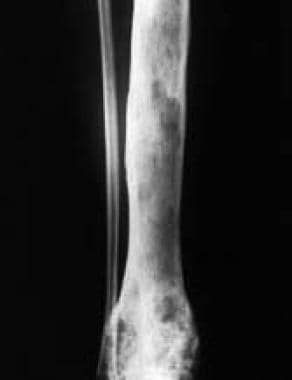 Lucency characteristic of polyostotic fibrous dysplasia in patient with McCune-Albright syndrome.
In general, monostotic FD (MFD) is more common than polyostotic FD (PFD); however, MFD is not associated with other findings that are typical of MAS. PFD can be detected by means of a skeletal survey. Total radiation exposure can be decreased if the skeletal survey is preceded by a bone scan. The laboratory can reduce the number of radiographs needed by focusing only on positive sites indicated by bone scanning.
Virtually any bone in the body may be affected. Commonly affected bones include the femur, tibia, ribs, and facial bones. Involvement of the small bones of the hands and feet accounts for 50% of cases. Long-bone lesions are more frequent in the metaphyseal and diaphyseal regions. The individual lesions may be trabeculated, with thin cortices and ground-glass appearance. Formal bone-age estimations may be higher in patients with sexual precocity.
Sclerosis of the basilar or temporal skull is seen (see the image below), with possible involvement of the ossicles or impingement on the temporal nerve. Evidence of past or current pathologic fractures is seen. Findings of hypophosphatemic rickets may be present. Osteosarcoma is rare (2%) and is found most often in patients who have received radiation treatment to affected bone lesions.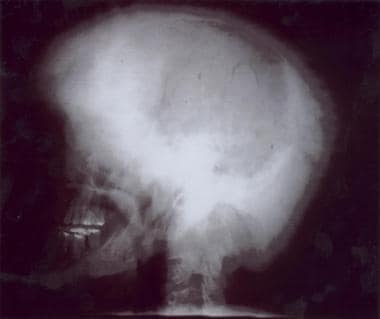 Plain skull radiograph in a typical McCune-Albright syndrome case shows marked macrocrania, frontal bossing, and markedly thickened bony table in patchy areas, particularly at base of skull and occiput. Skull also shows hair-on-end appearance, which needs to be differentiated from similar radiologic appearances in Paget disease or poorly controlled hemoglobinopathy (eg, beta-thalassemia, sickle cell disease).
---
Did this answer your question?
Additional feedback? (Optional)
Thank you for your feedback!