Answer
Café-au-lait spots, ranging from light brown to dark brown in color, are the classic symptom of MAS. They may not be apparent in very young patients but may become more prominent with age. A Wood lamp can help detect subtle lesions. Pigmented areas are often few but can be quite large (see the first image below). These lesions often display a segmental distribution and frequently predominate on one side of the body (the side with more bony fractures and deformity). Individual lesions generally do not cross the midline (see the second image below).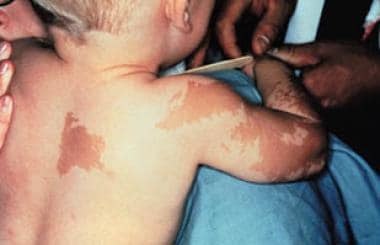 Large café-au-lait patches around shoulder in child with McCune-Albright syndrome.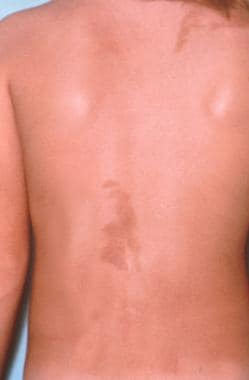 McCune-Albright syndrome case showing café-au-lait pigmentation. Lesion does not cross midline, which is typical of pigmented lesions in this syndrome.
If precocious puberty and café-au-lait pigmentation are the only features noted, NF cannot be ruled out. Generally, the café-au-lait spots in MAS are characterized by an irregular outline ("coast of Maine"; see the image below), whereas the spots in NF tend to be smaller and have a smooth outline ("coast of California"); however, this distinction may not hold true in all cases. The presence of axillary or inguinal freckling, pigmented iris hamartomas (Lisch nodules), or cutaneous neurofibromas is suggestive of NF.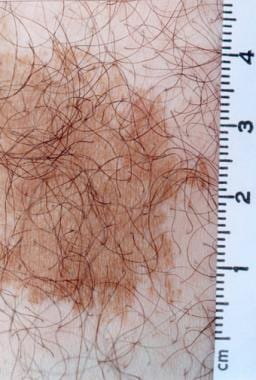 Café au lait spot. This is a fairly large, irregular-edged ("coast-of-Maine" variety) lesion. It presents as a brownish, otherwise-asymptomatic macule/patch. The degree of pigmentation is fairly uniform.
The lesions are arranged in a segmental fashion that coincides with the developmental lines of Blaschko. They are located most commonly on the buttocks and the lumbosacral back. Common areas to look for subtle café-au-lait spots include the nape of the neck and the nasal clefts. However, these pigmented lesions are absent in 10-20% of patients and can be detected (by a formal dermatologic assessment) in as many as 10% of healthy subjects; accordingly, their diagnostic utility is limited when they are not associated with other features of MAS. However, it was reported that irregular congenital café-au-lait macules in a blaschkoid pattern on a patient's back were used to diagnose MAS (later confirmed by genetic evaluation) even though other signs of the disorder were not present at the time. [33]
A few cases have been described in which MAS has been associated with either patchy or diffuse alopecia (first described by Shelley and Wood).
---
Did this answer your question?
Additional feedback? (Optional)
Thank you for your feedback!