Answer
Because of the different adrenocortical zones involved in idiopathic hyperplasia, in comparison with adenomas, assays of plasma 18-hydroxycorticosterone (18-OHB) or plasma and/or urine 18-oxocortisol (18-oxo-F)/18-hydroxycortisol may be of diagnostic use. (See the image below.) [30, 31]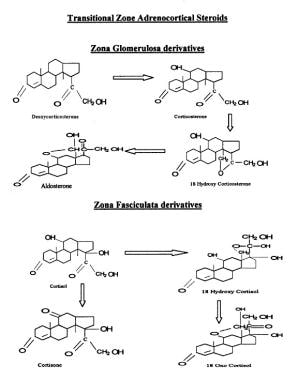 Transitional zone adrenocortical steroids.
Aldosteronomas are typically associated with 18-OHB levels of greater than 100 ng/dL. Similarly, glucocorticoid-remediable aldosteronism (GRA; type 1 familial hyperaldosteronism), though a hyperplastic disease by definition, is also associated with an increased production of these 18-oxo/hydroxy derivatives. This distinct biochemistry is not present in renin-responsive adenomas (RRAs). At this point, few centers send out for these specialized biochemistry tests, and their current value is mainly historical.
---
Did this answer your question?
Additional feedback? (Optional)
Thank you for your feedback!