Answer
Although fairly difficult to set up and not routinely available, this test can be useful in select cases for distinguishing between adenomas and hyperplasia. In large nuclear medicine referral centers, the discriminant value of the test approaches that of adrenal venous sampling (ie, close to 90%), especially with larger tumors of 1.5 cm in diameter or larger. (See the image below.) The typical administered activity is 37 MBq (1 milliCurie; mCi).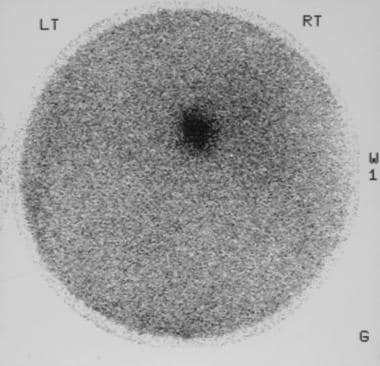 Scintigram obtained by using iodine-131-beta-iodomethyl-norcholesterol (NP-59) in a 59-year-old man with hypertension shows fairly intense radionuclide uptake in the right adrenal tumor. At surgery, a Conn tumor was confirmed.
The test results are improved if there has been previous dexamethasone suppression of the adrenals using 0.5-1 mg of oral dexamethasone every 6 hours. In this setting, adenoma images remain visible, while hyperplastic gland images fade after 2-3 days of dexamethasone therapy.
---
Did this answer your question?
Additional feedback? (Optional)
Thank you for your feedback!