Answer
Although prior studies suggested that aldosteronomas were the most common cause of primary aldosteronism (70-80% of cases), later epidemiologic work indicated that the prevalence of aldosteronism due to bilateral idiopathic adrenal hyperplasia (IAH; sometimes also abbreviated as BAH) is higher than had previously been believed. These reports suggested that IAH may be responsible for as many as 75% of primary aldosteronism cases. Moreover, reports have described a rare syndrome of primary aldosteronism characterized by histologic features intermediate between adrenal adenoma and adrenal hyperplasia, which often is unilaterally localized (also referred to earlier literature as "intermediate aldosteronism") (see Etiology). (See the images below.)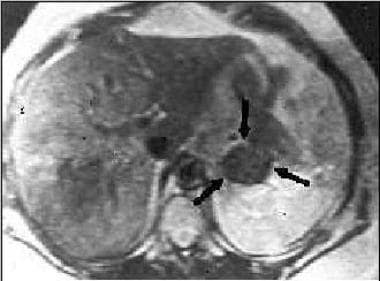 Magnetic resonance imaging (MRI) scan in a patient with Conn syndrome showing a left adrenal adenoma.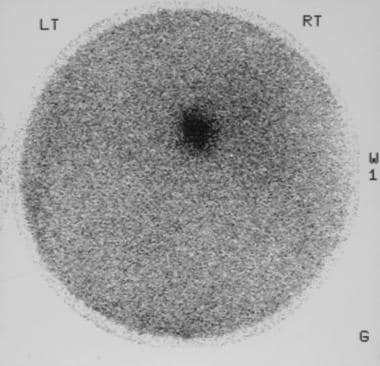 Scintigram obtained by using iodine-131-beta-iodomethyl-norcholesterol (NP-59) in a 59-year-old man with hypertension shows fairly intense radionuclide uptake in the right adrenal tumor. At surgery, a Conn tumor was confirmed.
---
Did this answer your question?
Additional feedback? (Optional)
Thank you for your feedback!