Answer
Answer
PGI2, the predominate product of COX in microvascular endothelium, is converted from PGH2 by PGI2 synthase. The structural characteristics include not only a 5-member ring, similar to all prostaglandins, but also an enzyme-specific arrangement of respective hydroxyl and carbonyl groups, as shown below. The functional characteristics include inhibition of platelet aggregation, inhibition of platelet and neutrophil adhesion, dilation of bronchial and vascular smooth muscle, and modulation of cholesterol efflux from arterial walls with a corresponding 3-minute tissue half-life. Furthermore, the biosynthesis of PGI2 is enhanced in the face of thrombogenesis and vasoconstriction to balance the physiologic milieu, not unlike several well-known stimulation/inhibition processes. [11]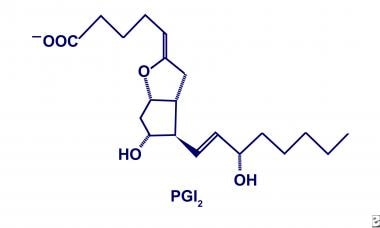 Prostacyclin (PGI2).
---
Did this answer your question?
Additional feedback? (Optional)
Thank you for your feedback!