Answer
Answer
TXA2, the predominate product of COX in platelets and macrophages, is converted from PGH2 by thromboxane synthase. The structural characteristics include a 6-membered ring containing an ether, as depicted in the image below. The functional characteristics include platelet aggregation, vascular smooth muscle constriction, and bronchial smooth muscle constriction with a corresponding 30-second tissue half-life. Furthermore, TXA2 has a different affinity for each eicosanoid-specific receptor because of distinct receptor ligands. As a result, the physiologic responses via TXA2 are tailored to the situation and are less haphazard when stimulated. [12]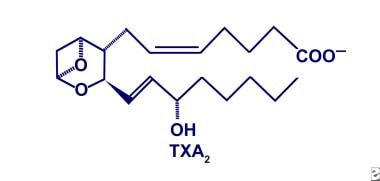 Thromboxane A2 (TXA2).
---
Did this answer your question?
Additional feedback? (Optional)
Thank you for your feedback!