Answer
Answer
LMWHs are manufactured when standard heparin is treated by various enzymatic or chemical methods to select those lower-molecular-weight moieties that contain the active ATIII binding site. The average molecular weight of fractionated heparin is 4.5 kd rather than the usual 15 kd. The molecular-weight threshold under which anti-factor Xa activity is maximized is 5.4 kd.
The polysaccharide side chain of the heparin molecule is decreased from 18 U to approximately 13 U. As the length of the side chain is decreased, the ability of the molecule to prolong the aPTT is lost, but the ability to complex with ATIII is retained. LMWHs do not require monitoring of either aPTT or INR (see the image below).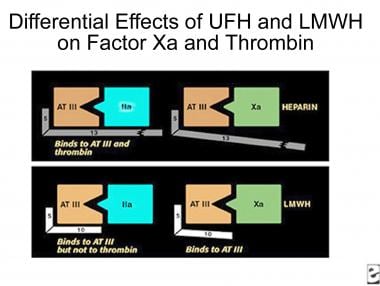 Comparison of binding sites for standard heparin and low-molecular-weight heparin.
The pharmacologic effect of this transformation is to make the LMWH more bioavailable (~90%, compared with 29% for UFH) and to lengthen its half-life to 4 hours from 1 hour for UFH. LMWH also increases the activity ratio of anti-Xa to anti-IIa, resulting in increased antithrombotic activity.
In experimental models and animal studies, LMWH produces less microvascular bleeding than UFH, but this finding has not been duplicated in human trials. Compared with placebo, LMWHs produced a 70-80% risk reduction for DVT in numerous studies without an increase in major bleeding in high-risk orthopedic patients. Meta-analyses comparing various other methods of DVT prophylaxis, including low-dose UFH, adjusted-dose heparin, and warfarin, have demonstrated improvement in DVT prophylaxis without increase in hemorrhagic complications. [32, 33, 34]
Several LMWH medications are commercially available, including the following:
Enoxaparin - Dose 30 mg SC every 12 hours, starting 12-24 hours postoperatively; dosing may require adjustment in obese hospitalized patients

[35]

Dalteparin - Dose 5000 IU SC daily (qd), starting 12-24 hours postoperatively

[36]

Danaparoid - Dose 750 U SC every 12 hours, starting 12-24 hours postoperatively

Nadroparin - Dose 38 U/kg SC qd, starting 12-24 hours postoperatively

Tinzaparin

[37]

- Dose 75 U/kg/d SC, starting 12-24 hours postoperatively

Ardeparin - Knee surgery, dose 50 IU/kg SC every 12 hours, starting 12-24 hours postoperatively
---
Did this answer your question?
Additional feedback? (Optional)
Thank you for your feedback!