Answer
Venous thromboembolism (VTE) encompasses two interrelated conditions that are part of the same spectrum, deep venous thrombosis (DVT) and pulmonary embolism (PE). PE is the obstruction of blood flow to one or more arteries of the lung by a thrombus lodged in a pulmonary vessel, as shown in the image below. (See Pathophysiology and Etiology.)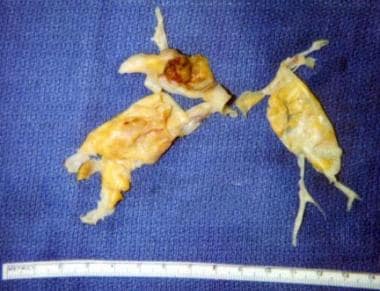 Pulmonary embolism within the pulmonary artery.
PE and DVT can occur in the setting of disease processes, following hospitalization for serious illness, or following major surgery. In 1856, Virchow demonstrated that 90% of all clinically important PEs result from DVT occurring in the deep veins of the lower extremities, proximal to and including the popliteal veins. However, emboli also can originate from the pelvic veins, the inferior vena cava, and the upper extremities. (See Pathophysiology, Etiology, Presentation, and Workup) [1, 2, 3, 4, 5]
Thromboembolic disease is the third most common acute cardiovascular disease, after cardiac ischemic syndromes and stroke. The spectrum of disease ranges from clinically unsuspected to clinically unimportant to massive embolism causing death, and indeed DVT and PE frequently remain undiagnosed because they may not be suspected clinically. Untreated acute proximal DVT causes clinical PE in 33-50% of patients. Untreated PE often is recurrent over days to weeks and can either improve spontaneously or cause death. (See Epidemiology, Presentation, and Workup.)
In a study of Virchow's triad in "silent" DVT, Lurie et al assessed 152 patients who underwent venous stenting for proximal venous outflow obstruction and who had routine hypercoagulation profile testing performed preoperatively. [6] By history or intraoperative chronic postphlebitic changes (CPPCs), 77 patients (50.7%) were positive for remote DVT; 51 (33.6%) had intraoperative findings of CPPCs without a history of DVT; 20 (13.2%) had intraoperative CPPCs with a history of DVT; and six (3.9%) had a history of DVT without intraoperative findings. Findings of CPPCs were significantly increased among patients with a history of DVT, and intraoperative findings of CPPCs were significantly increased in patients with one or more positive hypercoagulation markers.
---
Did this answer your question?
Additional feedback? (Optional)
Thank you for your feedback!