Answer
Chondrosarcoma is the second most common nonlymphoproliferative tumor of the spine. Chondrosarcomas make up 7-12% of all spine tumors, and the spine is the primary site in 3-12% of all chondrosarcomas. Men are affected two to four times more frequently than women. The mean age of presentation is 45 years. The thoracic spine is the most common site, but chondrosarcomas can occur at all levels of the spine. The most common symptoms are pain, a palpable mass, and neurologic complaints in 45% of patients.
Plain radiographs of chondrosarcomas typically demonstrate bone destruction. The lesions may be apparent in the vertebral body 15% of the time, in the posterior elements 40% of the time, or in both 45% of the time. In 70% of patients, the characteristic chondroid matrix in the form of rings and arcs is apparent on x-ray. Cortical destruction with soft-tissue extension is best observed on CT or MRI. (See the images below.)
s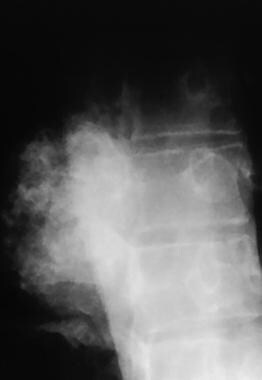 Spinal tumors. Coned-down view of lateral thoracic spine in patient with chondrosarcoma.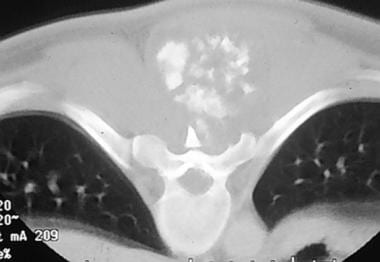 Spinal tumors. Axial CT scan at level of chondrosarcoma seen on previous x-ray image.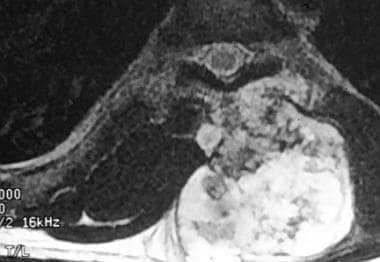 Spinal tumors. T2-weighted MRI scan of chondrosarcoma in same patient.
Chondrosarcomas that arise from malignant transformation of osteochondromas are observed as a thickening of the cartilaginous cap. Involvement of the adjacent vertebral levels by extension through the disc is observed in 35% of all lesions. On CT or MRI, mineralization is usually apparent in the soft-tissue component of the lesion. The radionucleotide uptake by the lesion is intense and has a heterogeneous appearance on bone scan.
Chondrosarcomas are relatively low-grade lesions (grade I or II). Most lesions are primary chondrosarcomas rather than secondary chondrosarcomas arising from the malignant degeneration of osteochondromas, as previously noted. Chondrosarcomas have relatively sparse cartilaginous stroma with a surrounding pseudocapsule. Examination under higher magnification reveals atypical nuclei with several mitotic figures per high-powered field.
Surgical resection by vertebral corpectomy and strut bone grafting sometimes may be necessary for complete excision. Cure is possible when complete resection can be achieved; this is possible 25% of the time. If wide marginal resection cannot be achieved, the tumor recurrence results in death in 74% of cases. The mean survival for all patients with chondrosarcomas is 5.9 years according to Shives et al. [26]
Adjunctive treatment with radiation is controversial for these tumors. Chemotherapy is used sometimes to help decrease the size of the mass with high-grade chondrosarcomas and dedifferentiated chondrosarcomas. Metastases of chondrosarcoma depend on the grade of the primary chondrosarcoma. The lungs are the most frequent sites of metastasis.
---
Did this answer your question?
Additional feedback? (Optional)
Thank you for your feedback!